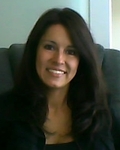 Education and Training
Dr. Rojas received a BA in Psychology with a minor in Sociology from Providence College. She obtained an MSW in Clinical Social Work from Smith College and conducted her internships at River Valley Counseling Center, The Stone Center at Wellesley College, and Massachusetts General Hospital. She graduated with a PhD in Advanced Clinical Social Work from Columbia University and was a Council on Social Work Education Research Fellow funded by the National Institute of Mental Health. Dr. Rojas conducted her dissertation research on Post Traumatic Stress Disorder, substance abuse, and HIV. Her education and training were in psychodynamic, family systems, relational, and cognitive-behavioral therapy.

Upon finishing her doctorate, Dr. Rojas did a Post Doctoral Fellowship at Johns Hopkins University Bloomberg School of Public Health - Mental Health Department. She also completed the Level III Practicum Training in Gottman Method Couples Therapy through The Gottman Relationship Institute, personally trained by Drs. John and Julie Gottman. Dr. Rojas is currently completing the extensive Certified Sex Addiction Therapist (CSAT) training through Dr. Patrick Carne's International Institute for Trauma and Addiction Professionals.
Additionally, she has training in Eye Movement Desensitization and Reprocessing (EMDR) for the healing of trauma through the EMDR Institute, training in dialectical behavior therapy (DBT) via The Linehan Institute for the treatment of Borderline Personality Disorder and emotion regulation issues, and training in cognitive behavioral therapy through the Beck Institute for the treatment of anxiety and depression. Furthermore, she has training in Critical Incident Response through Robert Douglas & Associates. She is also certified as a yoga instructor.

Experience
Dr. Rojas has provided psychotherapy to individuals, couples, families, and groups in numerous settings such as client's homes, community mental health centers, a residential program for adolescent girls, a college counseling center, a medical hospital, places of employment, and private practice in Washington, DC and Winter Park, FL. She has also served as a director of a mental health and substance abuse department in a health center in Washington, DC. Dr. Rojas serves her community as a first responder to crisis incidents throughout Greater Boston. She is licensed to practice independently in the state of Massachusetts, is a qualified supervisor for interns, and is fully bilingual (English/Spanish).

Professional Activities
In addition to being a psychotherapist, she has taught as an adjunct professor at Columbia University, Adelphi University, and the Catholic University of America. She was also a Visiting Instructor at the University of South Florida. She has taught Human Development and Psychopathology, Assessment and Diagnosis of Mental Disorders, Human Behavior in the Social Environment, Foundations of Social Work Practice, and Research and Statistics in Social Work.

She has presented her research at the Council on Social Work Education Annual Program Meeting, the College on Problems of Drug Dependence, the Johns Hopkins University Bloomberg School of Public Health - Mental Health Seminar Series, the Many Faces of Trauma Conference, the University of Southern California School of Social Work, Hunter College School of Social Work, and Boston University Mental Health Counseling and Behavioral Medicine Department. Dr. Rojas is also a sought after speaker on tv and radio and has run workshops on couple's issues and various mental health topics. Additionally, she has several publications in peer-reviewed journals.